After playing five rounds of High / Low I Wanna Go See Kenny, Laura Lee Matts of Dahinda, Rachel Tucker of Williamsfield, Toni Freeman of Galesburg, Liz Beck of Avon, and Connie Reeding of Galesburg were contenders in the Grand Prize drawing on Tuesday (7/10/18) for the Kenny Chesney concert tickets.
FM 95 and Merschman Seeds congratulate Liz Beck who was drawn at random as our Grand Prize winner during FM 95 Mornings with Eric Hanson and Thomas! Liz won a pair of concert tickets for Kenny Chesney's A Trip Around The Sun Tour at Busch Stadium in St. Louis on Saturday, July 21! Plus, we'll set her up with hotel accommodations as well.
All of our contenders won Kenny Chesney prize packs and gifts from Merschman Seeds!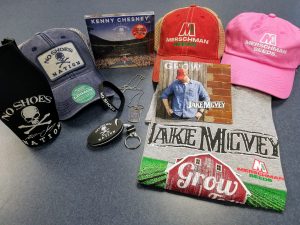 Thank you to everyone who joined us in playing High / Low I Wanna Go See Kenny. We hope you had some fun with it!
And a huge thank you to Merschman Seeds, Your Friend In The Field, for helping to make it all happen with FM 95. Enjoy the concert, Liz!