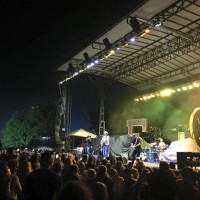 The Back Road Music Festival was Saturday, August 20, 2016, in the Park District in Galva. This year's main stage line-up included Chris Lane, The Swon Brothers, David Lee Murphy, and headliner, Easton Corbin. Plus, the side stage featured regional performers Harvest Sons, Tasji Bachman, and Aileeah Colgan. It threatened rain most of the day, but by the time Chris took the stage at 4pm, it was absolutely beautiful weather…cooler and less humid than you'd normally expect for August. What a great night of country music!
For some photos from the event posted on Easton Corbin's Facebook page, click here.
This was the third annual event produced by Wiley Park Productions. Check out the photos to get a feel for the event, or if you were there, maybe even find yourself in the crowd!
Click on any photo to open the slideshow