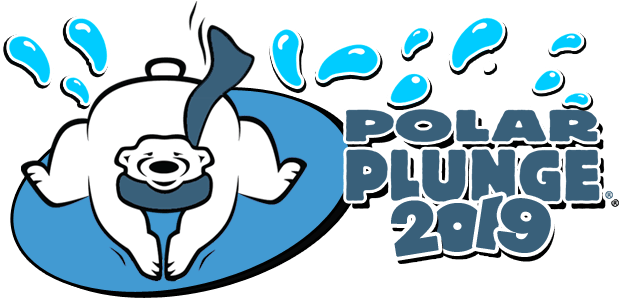 Thank you to all the brave souls who plunged into a frigid Lake Storey in Galesburg on Sunday (2/17/19) for the Polar Plunge to benefit Special Olympics Illinois, sponsored by GEICO!  135 plungers took a quick dip into the lake, which had to have a hole punched open through the thick ice. In the photo gallery below there is a photo of all of that ice piled up!
With the help of incredible donors, the 2019 Polar Plunge raised just over $44,000 for Special Olympics Illinois! The youngest to plunge was 10 and the oldest was 62. The individual who raised the most money was Kaylee McLaughlin at $8,425, who was also the top Special Olympics athlete fundraiser! 2nd highest in donations was David Mills at $1,725 followed by Greg Rosenthal at $1,115!
The most money raised by a team was The Freezing Falcons with $11,341!! In 2nd was Bayer Monmouth Agronomy Center at $5,335 and then Team Titan Nation who pulled in $3,183.
A huge thank you to all who donated and supported the plungers, but more importantly, their donations will help the more than 800 Special Olympics athletes in our region continue to compete!
Many teams and individuals plunged dressed in costume…from superheroes, to SpongeBob SquarePants, to Bad Santa, and even as a strip of bacon. The winner of the costume contest was the Golden Girls, who were dressed as characters from the '80s TV show, The Golden Girls.
The Plunge Teams:
Freezing Falcons
County Market Frigophobics
Team Titan Nation
Bayer Monmouth Agronomy Center
Team Gatorcicles from Dave's Autobody
Alpha Sigma Alpha at Knox College
Subzero Superheroes
Tiger Pride from ROWVA High School
United Red Storm
Percy Penguin Plungers from F&M Bank
Objection! Overruled
First Mid's Freezin' Ladies
Alpha Beta Gamma from Knox College
Knoxville High School
Galesburg Police Department
A-Town Heroes
Pointe Plungers
Golden Girls
Friggin' Frigid Friends
STUCO on the Go
Henry Hill TACT Team
individual plungers
Team FM 95
Click on any photo to open the slideshow
photos by Mollie Prescott/FM 95