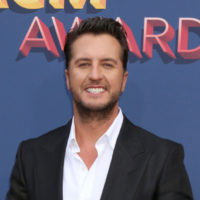 Luke Bryan is responding backlash he received on social media after bringing Florida Governor Ron DeSantis on stage during his Jacksonville concert on Friday, October 28th.  DeSantis joined Bryan on stage as the singer revealed plans to donate proceeds from his upcoming Estero, Florida concert to the Florida Disaster Fund in the aftermath of Hurricane Ian. Following the show, DeSantis took to social media to thank Bryan for allowing him to share his stage, tweeting:  "Thanks for letting me crash the party last night, @lukebryan!"
Bryan took to Twitter on Sunday , Oct. 30 to issue a statement after many expressed their displeasure that Bryan associated himself with the polarizing politician, who has been outspoken about anti-LGBTQ+ policies anti-abortion, and more. Bryan said he doesn't "typically respond to stuff when I'm getting run down on a social platform" but issued this response:  "Here's the deal. I understand Governor Desantis is a very polarizing figure. I grew up in a country where if a governor asks you if they can come and raise awareness to help victims of a natural disaster you help. I've generally stayed out of politics throughout my career.  I knew people would chatter about this but for me the more important piece was: If I am going to come back there a few weeks after a large portion of people have been affected by a natural disaster in a state where people have been good to me, this felt right. Raise awareness, have a little fun between the GA and FL college fans before the game and do what I love on stage."  Bryan then concluded his statement, saying, "this is all I am saying about this. I'll be outdoors with my boys. Enjoy your Sunday. Love y'all #GoDawgs."  He also included information on how to donate to the fund via text message (text disaster to 20222).
Hurricane Ian postponed three of Bryan's Raised Up Right Tour dates. The country superstar's rescheduled shows will now take place this week: Nov. 2 in Estero, Nov. 4 in West Palm Beach, and Nov. 5 in Tampa.
Editorial credit: Kathy Hutchins / Shutterstock.com