From those who signed-up with at least one of yesterday's (2/02) featured ACM Award winners, congratulations to our FINAL five Contenders for the FM 95 ACM Vegas Fly Away:
Diana Ward of Fairview
Lannette Ferch of Monmouth
Brian Malott of Havana
Brenda Shores of Abingdon
John Shinn of Macomb
They were drawn at random this morning and will now be included in the Grand Prize drawing on February 3, 2020, for a chance to win a fly away to Las Vegas for the weekend of April 3rd, including tickets for the 55th ACM Awards Show!
There are many more chances for you to become a Contender as well. For details how to enter to win, please click here or the image below.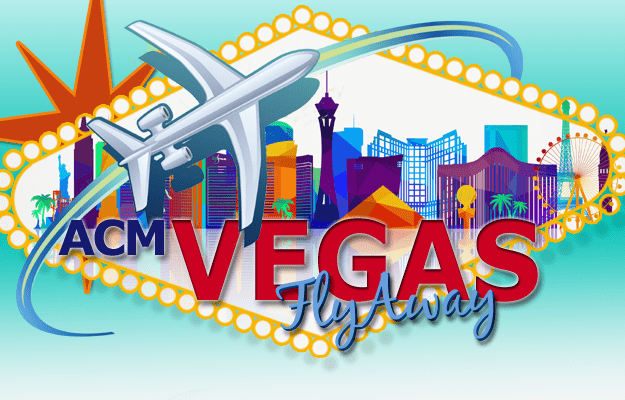 Contenders previously announced:
     Sunday 2/02
Melissa McGraw of Galesburg
Jerry Haggerty of Ellisville
Kylee Bouchez of Victoria
Jillana Wilson of Monmouth
Ryan Sullivan of Table Grove
     Saturday 2/01
Melanie Tuthill of East Galesburg
John Thompson of Gilson
James Carter of Galesburg
Judy Rincon of Monmouth
Nancy Rutledge of Macomb
     Friday 1/31
Katrina Warner of Maquon
Amanda Morgan of Galesburg
Melanie Falk of Macomb
Kimberly Barton of Williamsfield
Lori Putnam of Abingdon
     Thursday 1/30
Shasta Syphrit of Galesburg
Andy Franey of Knoxville
Pam Thomson of Woodhull
Ashley Shonkwiler of Maquon
Jeremy Teel of St. Augustine
     Wednesday 1/29
Dan Rincon of Monmouth
Lynn Rollins of Rio
Shannon Sebben of Henderson
Jessica Gale of Table Grove
Danielle Hall of Abingdon
     Tuesday 1/28
Louann Thompson of Knoxville
Malissa Sanders of Oneida
Connie Wessels of Galesburg
Tancy Mitchell of Maquon
Tori Links of Abingdon
     Monday 1/27
Victor Mahnesmith of Gilson
Lisa Franey of Knoxville
Dianna Sims of Galesburg
Brittany Foster of Lewistown
Ted Shaner of Monmouth
     Sunday 1/26
Zachary Scanlan of Monmouth
Barbara Hall of Knoxville
Randy Thomson of Woodhull
Pam Jacobson of Macomb
Beth Stenger of Prairie City
     Saturday 1/25
Tausha Grice of Galesburg
Nancy Berglund of Monmouth
Josh Sebben of Henderson
Maria Godina of Monmouth
Marie Derry of Galesburg
     Friday 1/24
Lynda Mesecher of Cameron
Tracy Clark of Galesburg
Corey Mowen of Berwick
Ross Roth of Canton
Richard Johnson of Biggsville
     Thursday 1/23
Mike Burns of Galesburg
Art St. George of Galesburg
Corey Sloan of Avon
Dawn Phillips of Bushnell
Terry Conley of Knoxville
     Wednesday 1/22
Deb Friend of Galesburg
Donna Ericson of Galva
Vicki McVey of Galesburg
Rebecca Vannoy of Galesburg
Sara Gooding of Roseville
     Tuesday 1/21
Jodie Kost of Asotria
Judy Strahan of Galesburg
Carol Peterson of Galesburg
Kathy Phillips of Hanna City
Susan Griswold of Galesburg
     Monday 1/20
Jason Williams of Galesburg
Bill Hickman of Abingdon
Shirley Earp of Monmouth
Crystal Mowen of Avon
Chastity Hundley of Peoria
     Sunday 1/19
Merle Ford of Lewistown
Noah Buhl of Canton
Katherine Jacobson of Elmwood
Kelli Axcell of Knoxville
Rick Brown of Galesburg
     Saturday 1/18
Michele Twaddle of Macomb
Amanda McCune of Abingdon
Virginia Fell of Galesburg
Julie Nelson of Oneida
Chase Ayers of Abingdon
     Friday 1/17
Terri Tuthill of Knoxville
Kelly Scott of Altona
Carol Sargeant of Avon
Judy Ferris of Bradford
Kate Hanson of Galesburg
     Thursday 1/16
Elaine Likes of Oneida
Randy Upton of Galesburg
Lisa Sullivan of Table Grove
Stacey Allen of Bushnell
Sheila Icenogle of Oneida
     Wednesday 1/15
Nancy Gray of Galesburg
Cindy Chasteen of Oneida
Sandy Abbadusky of Monmouth
Sandra St. George of Galesburg
Kylie Stewart of Galesburg
     Tuesday 1/14
Cory Teel of St. Augustine
Christine Burns of Galesburg
Josh Warner of Maquon
Lori Kane of Galesburg
Elizabeth Beck of Avon
     Monday 1/13
Curtis Yazvec of Table Grove
Cathie Brush of Galesburg
Rita Welch of Smithfield
Amanda Behymer of Galesburg
Jennipher Miller of Monmouth
     Sunday 1/12
Jeanine Bryant of Abingdon
Debbie Johnson of Galesburg
Don Taylor of Galesburg
Sherry Sarver of Peoria
Jim Johnson of Knoxville
     Saturday 1/11
Cindy Cozadd of Abingdon
Mindy Locke of Galesburg
Carol Marshall of Galesburg
Lucille Stachyra of Galesburg
Mary McGee of Galesburg
     Friday 1/10
Danielle Peterson of Galesburg
Sonja Settles of Bushnell
Sara Cree of Galesburg
Steven Slominski of Monmouth
Kent Rigg of Dahina
     Thursday 1/09
David Jenkins of Galesburg
Matt Butkovich of Galesburg
Chris Frankhauser of Bushnell
Nicole Kindhart of Monmouth
Virgil Moore of Galesburg
     Wednesday 1/08
Georgia Matthew of Havana
Vickie Lynch of Galesburg
Robbin Kost of Astoria
Barbara Friend of Galesburg
Cindy Mohr of Alexis
     Tuesday 1/07
Deb Dyer of Galesburg
Margaret Decker of Galesburg
Elizabeth Asbry of Knoxville
Jason Chasteen of Oneida
Larry Henson of Monmouth