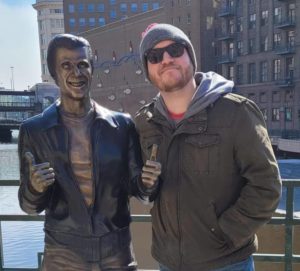 Born and raised in rural Warren County. Graduated from United High School. Then went on to graduate from Carl Sandburg College and eventually from Southern Illinois University in Carbondale with a focus on media production (specifically audio/radio). Started working in radio in 2014.
You can catch me cheering on the Chicago Blackhawks or the Chicago Cubs (I look particularly good in Cubbie blue) and the Fighting Illini (if I'm not cheering on my SIU Salukis). I like to think of myself as a bit of a film/television buff.
Favorite Country Artists:
Jerry Reed
Townes Van Zandt
Chris Stapleton
Favorite Country Songs:
"Pancho and Lefty" by Townes Van Zandt (The Merle Haggard and Willie Nelson version is a banger as well)
"Dust on the Bottle" by David Lee Murphy
"You Should Probably Leave" by Chris Stapleton
The important questions you probably want to know…
Trapped on a desert island with only one movie?
Everything Everywhere All At Once
What meal would you eat every day for the rest of my life?
KFC's famous bowls (don't judge me)
Pineapple on pizza?
HELL YES
Play any music instruments?
I've played the drums for the last 25 years. I own guitars but can't do much on them.
Team Edward or Team Jacob?
Who and who?
What's your favorite flavor of ice cream?
I'm very basic. Chocolate. Just chocolate. Nothing more.
NSYNC or Backstreet Boys?
Backstreet Boys. All day. Every day.
Biggest pet peeve?
People who don't use their turn signals.
Would you rather spend the weekend on a beach, in the arctic, or on a mountain?
On a mountain. I love hiking. And, the views are amazing.
Star Wars or Star Trek?
Both? I'm a nerd.
Do aliens exist?
You bet!
What reality TV show is a guilty pleasure of yours?
Literally anything cooking related. Hells Kitchen is fun (who doesn't like seeing Gordon Ramsey scream at people) but I'm also a big fan of Great British Baking Show (it's so cute how sweet everyone is)
Do you believe in ghosts?
Absolutely not.
What movie should have a sequel that doesn't?
I've always thought there should be a sequel/prequel to "The Big Lebowski".
What's your biggest phobia?
Spiders. They're absolutely evil.
If you could go without drinking coffee or tea for the rest of your life, which one would you choose to live without?
I'm not much of a tea drinker. If you take coffee away from me, there will be hell to pay.
Top bucket list place to visit?
Abbey Road Studios in London (Where nearly every Beatles album was recorded)
Strangest gift you've ever received?
I received a book from my late grandmother when I was 22 or 23 years old. It was titled "Finding
Success After 40" and meant to motivate older adults…