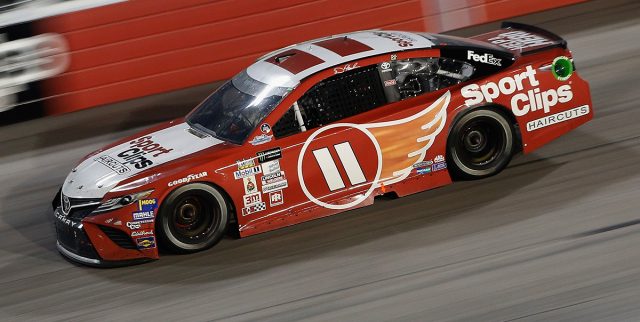 Years from now, if Darlington Raceway continues to celebrate "Throwback Weekend" honoring the history and heritage of the sport, some driver from some team will most certainly paint his racecar red and white to honor Denny Hamlin's dramatic drive to victory in 2017 at "The Track Too Tough to Tame".
Hamlin and his #11 Joe Gibbs Racing team could have thrown in the towel and settled for whatever came their way after the veteran driver made a rookie mistake – skidding past the entrance to pit road as he prepared for his final stop of the night. Hamlin surrendered the race lead and fell 20 seconds behind new leader Martin Truex, Jr. But Hamlin grabbed the wheel and with a determined charge to the finish, pushed his car back toward the front and steadily clipped seconds from Truex's lead as the laps wound down. As Hamlin closed to within a few car lengths of Truex, his advance to victory seemed inevitable. And as Truex's fate was further sealed when he popped a right-front tire that forced him off the pace, Hamlin took the white flag and motored on to his 2nd Southern 500 victory in eight years.
Runner-up Kyle Busch was 2 1/2 seconds back at the checkered flag. Kurt Busch, Austin Dillon and Erik Jones completed the top five. Truex, who had won the first two stages and led 76 laps, was credited with 8th place. Pole winner Kevin Harvick led 22 laps and finished 9th.
Sunday's win gave Hamlin and J-G-R a weekend sweep at the famed South Carolina oval. He also won Saturday's X-finity Series race.
– story by John Singler
www.mrn.com
Concord, North Carolina