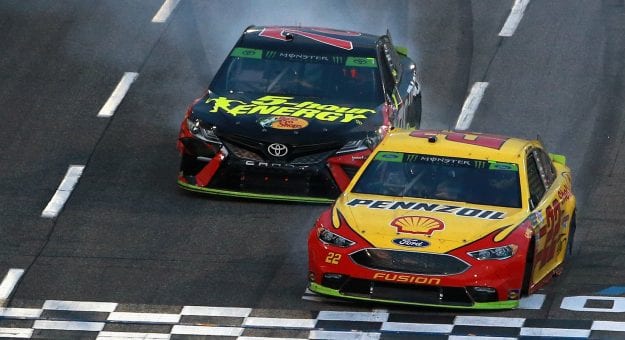 It was a competitive battle all the way through to the final moments of the First Data 500 on Sunday, as Joey Logano and Martin Truex, Jr. raced clean neck-and-neck going into the white flag lap. After Truex had gained position in front of Logano on the final lap, Logano moved Truex up the track and gained the edge through turn 4 as the drivers then got loose and slid across the finish line. Denny Hamlin made a late push along the inside and ended up finishing 2nd.
With the win, Logano has advanced to the Championship 4 and will have a shot at the title at Homestead-Miami in the final race of the season.
Next up in the Round of 8, the Monster Energy NASCAR Cup Series now moves on to Texas Motor Speedway for Sunday's AAA Texas 500.
– story by John Saunders, Jr.
www.mrn.com
Concord, North Carolina
1. Kyle Busch @ 4104 points
2. Martin Truex, Jr. (-21)
3. Kevin Harvick (-21)
4. Joey Logano (-30) – Championship 4 Contender
---
5. Kurt Busch (-46)
6. Chase Elliott (-52)
7. Clint Bowyer (-63)
8. Aric Almirola (-71)

For the complete driver standings, please visit the official page on nascar.com.

Tags: