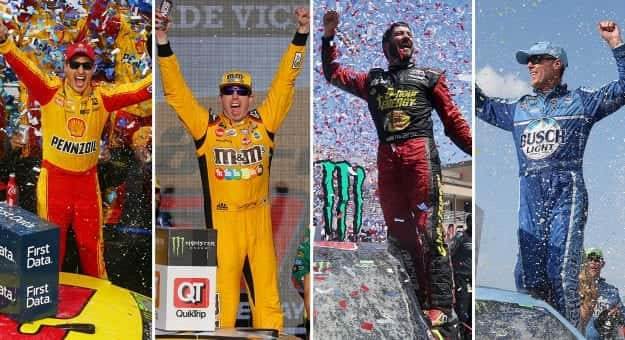 With Joey Logano already clinched for the final, the rest of the 7 playoff drivers had to compete for the remaining three spots up for grabs. It was the "Big 3" who ultimately came away as the finalists headed into this weekend. Kyle Busch secured his way in with the victory, and Martin Truex, Jr. raced his way in on points. Busch Pole winner Kevin Harvick rallied back after blowing a tire late in the first stage, earning enough points for the 4th finalist spot. Each one of the final four drivers have their points reset at 5000.
Harvick, Busch, and Truex all have one championship to their name. Logano is the only finalist contending for his first championship.
The final race of the season to determine the 2018 Champion is Sunday (11/18) at Homestead-Miami. Tune in for live coverage of the Ford EcoBoost 400 beginning at 12:30 on FM 95!
– story by John Saunders, Jr.
www.mrn.com
Concord, North Carolina
1. Joey Logano
2. Kyle Busch
3. Martin Truex, Jr.
4. Kevin Harvick
(all have 5000 points going into the final race)

---
– Eliminated from contention after the Round of 8:
5. Chase Elliott
6. Kurt Busch
7. Aric Almirola
8. Clint Bowyer 

For the complete driver standings, please visit the official page on nascar.com.

Tags: