FM 95 and Michelob Ultra congratulate the Ultra Party on the Patio winner:
Alyssa Hart of Peoria
Alyssa's name was drawn at random Monday morning (July 6, 2020) from all who had entered to win at fm95online.com and qualified as a Contender. As the grand prize winner, she won a new patio furniture set, a fire pit, a Michelob Ultra cooler and JBL speaker as well as other Michelob Ultra swag, plus a catered meal for ten (10) from Henn House BBQ Catering and Food Truck!!
Thank you to everyone who played for a chance to win and thank you for listening to FM 95!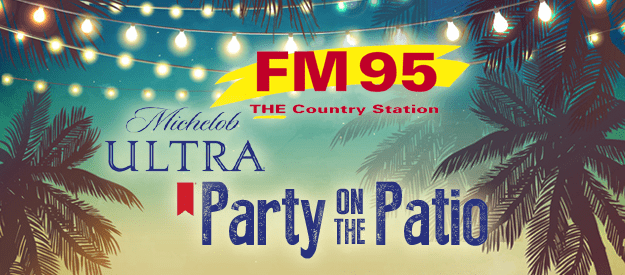 Contenders who were in the Grand Prize drawing:
     Monday 7/06
Brett Ryan of Gilson
Traci Shults of Kewanee
Barb Sargeant of East Galesburg
Matt Maaske of Galesburg
Corey Mowen of Berwick
     Sunday 7/05
Debra Decrane of Monmouth
Rodney Stacker of Monmouth
Sara Cree of Galesburg
Beth Stenger of Prairie City
Russ Johnson of Knoxville
     Saturday 7/04
Cory Tucker of Galva
Elaine Boyd of Monmouth
Cindy Owen of Gilson
Barbara Friend of Galesburg
Amanda Mines of Knoxville
     Friday 7/03
Delaney Hunter of Roseville
Nancy Gray of Galesburg
Marty Turner of Knoxville
Nick Soper of Victoria
Austin Magnison of Abingdon
     Thursday 7/02
Ginelle McCormick of Avon
Pam Lynn of Williamsfield
Penny Young of Galesburg
Teresa Younglove of Brimfield
Stephanie Campbell of Galesburg
     Wednesday 7/01
Kris Weigand of Galesburg
Sheena McCoy of Galesburg
Robert Mings of Roseville
Hannah Bryan of Knoxville
Todd Knox of Colchester
     Tuesday 6/30
Henry Ducamp of Galesburg
Greg Dentino of Oquawka
David Klapp of Galesburg
Debby Chenoweth of Industry
Jen Brandenburg of Oneida
     Monday 6/29
Jane Eklund of Galesburg
Michele Twaddle of Macomb
Brodie Grice of East Galesburg
Karen Chatterton of Macomb
Melissa Ehnle of Williamsfield
     Sunday 6/28
Teresa Ray-Guile of Blandinsville
Teresa Rouse of Good Hope
Sarah Edwards of Monmouth
Josh Sebben of Henderson
Lisa Franey of Knoxville
     Saturday 6/27
Linda Ryan of Abingdon
Merle Ford of Lewistown
Danielle Walters of Galesburg
Linda Murphy of Galesburg
Sonja Settles of Bushnell
     Friday 6/26
Mark Simpson of Knoxville
Yolanda Stigner of Galesburg
Christine Burns of Galesburg
Cathie Brush of Galesburg
Greg Begner of Edelstein
     Thursday 6/25
Alyssa Hart of Galesburg
Peggy Williams of Avon
Jamie White of Table Grove
Joseph Lowder of Canton
Carol Sargeant of Avon
     Wednesday 6/24
Kathy Ward of Galesburg
Jasmine Padilla of Monmouth
Pam Bellar of Galesburg
Joan Sperry of Alexis
Tina Pettifurd of Oquawka
     Tuesday 6/23
Dawn Phillips of Bushnell
Connie Evans of Farmington
C J Painter of Canton
Amanda Behymer of Galesburg
Jennifer McGee of Galesburg