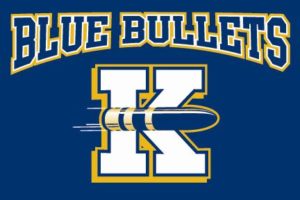 A great season for the Knoxville High School football team came to an end this afternoon (10/30) in the 1st Round of the IHSA state football playoffs in a loss to the Bishop McNamara Fighting Irish, 14 – 42.
If you missed the game, you can hear the broadcast by clicking on this player:
Live coverage of Knoxville Blue Bullets football on FM 95 is brought to you in part by:
Knoxville Athletic Booster Club • Diamond Ag • Chris Hroziencik-Edward Jones • Garretts Glass • Tompkins State Bank • Lacy England Insurance • Hinchliff Pearson West • Gibbs Construction • Jason Lumberry-Country Financial • Big Catz BBQ • Hurd Hendricks Funeral Homes • 6140Run! • Dave's Auto Body • Shawn Mason-State Farm Insurance • Nutrien Ag Solutions • FirstMid Bank •
---
---
The Abingdon-Avon Tornadoes prevailed over Lincoln Trail Conference rival Annawan-Wethersfield in the opening round of the IHSA state football Class 1A playoffs, 8 – 14, on Friday (10/29) night!
If you missed the game, you can listen to it with the player below:
Live coverage of Abingdon-Avon Tornadoes football on FM 95 is brought to you in part by:
Tompkins State Bank • Diamond Ag • Garretts Glass • Garden Gate Florist & Gifts • Abingdon Banking Center • Hinchliff Pearson West • Hi-Lo Grocery • 6140Run! • ACE Roofing & Construction • Accounting Systems Incorporated • Dave's Auto Body •
---
Scores of Area High School State Football Playoff Games