Trace Adkins, Whitey Morgan, Them Dirty Roses In Taylorville at Tailgate N Tallboys -CANCELLED-
Event Navigation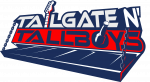 Announcement from the organizers of Tailgate N' Tallboys in Taylorville:
Tailgate N' Tallboys has been entertaining country fans for 5 years now. 2020 started a new chapter for the festival, moving to our new home in Taylorville, Illinois. As excited as we are about our new beginning, we're sad to say that it will have to wait until next year.
The very difficult decision has been made to cancel the festival for 2020. We will return next year and ware working on an even better experience than what was already planned. Next year's festival will be held July 29 – 31, 2021. We are so sad that the ongoing pandemic is forcing our hand. Ultimately, the safety of everyone is priority number one.
To our current ticket holders:  Have no fear. You will be taken care of! We have created a page on our website with all ticket rollover and refund information. Anyone who chooses to keep their passes for 2021 will be well rewarded. Should you need to go the refund route, that is OK also.